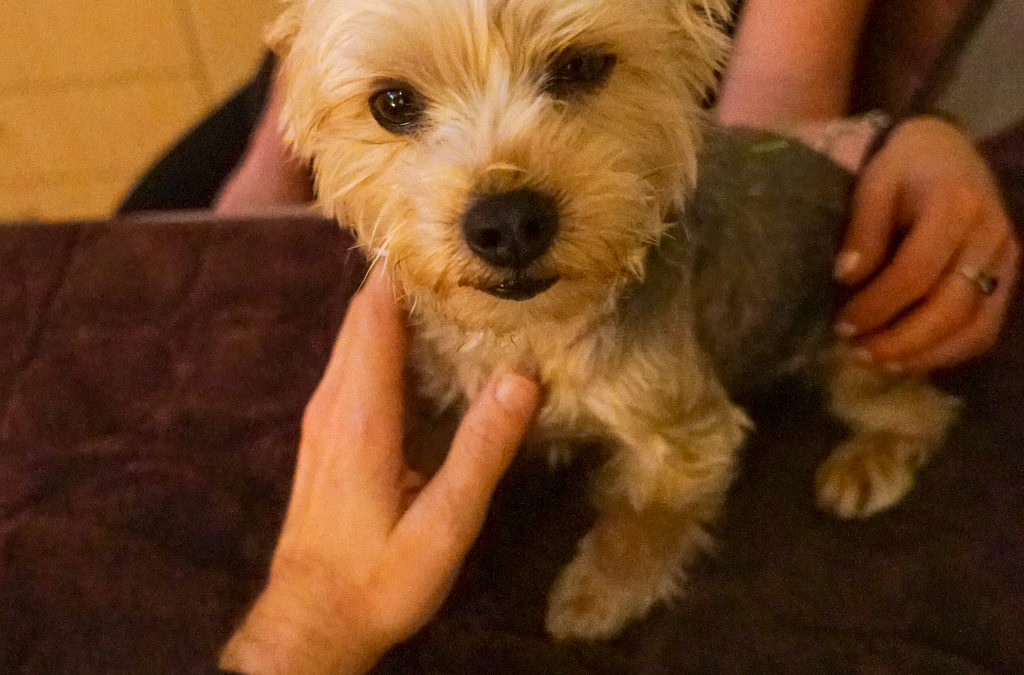 They just need a little help sometimes. I have been learning so much from watching my dog and cat patients recover from their illness, regain their mobility, and return to their natural healthy way of living.
Recently, I've treated several animals who have suddenly lost strength in their rear legs due to Intervertebral Disc Disease (IVDD) or herniated discs, Fibrocartilaginous Embolisms (FCEs) or Spinal Strokes, or an unknown cause. They're in shock, unable to understand why they suddenly have to drag their bodies around, often in pain.
Their people are worried and understandably so. They have often been told their only options are surgery or euthanasia and they are reluctant to spend $7,000 on a surgery that might not provide any results. Desperate for a solution, they come to us and we do everything we can. This includes a thorough examination by a veterinarian and then getting right to treatment, namely acupuncture.
But before I get to the needles, there are a few important steps I must take. I have to make a connection with the dog or cat as well with the people who accompany them, for this is how trust is established. Without trust, the patients won't let you into their world. Creating a "safe space" is priority #1 for me. This means being a good listener, and working through any resistance with patience, in a calm and grounded manner.
Then comes the needles, right? Nope, I work with my hands first. This is not just another procedure for animals. We want to start relaxing the muscles that will get needled with gentle massage. I use Tui Na ('tway-na"), the Chinese style of massage and Acupressure to prepare the body for the little needles that get patiently inserted into acupuncture points.
We start off with one needle and then give pause. I might have one hand on the low back, helping ground them as the needles 'go to work'. I ask the people if I can play some relaxing music, I dim the lights, and we get comfortable. I put more needles in and then…
We just watch as the breathing changes. The body might let out some spasms while the muscles release, maybe they eventually let out a big sigh and hopefully lay down, close their eyes and go to sleep. And if they aren't ready to completely let go just yet, that's ok! Although I have my agenda, or treatment plan, I work on their terms. The trust building exercise continues and hopefully, their eyes bat, as they realize they can let go of the tension that likely caused these symptoms in the first place. One of the keys to my success is the fact that I give hour long treatments where the animals get a chance to really sink deeply into relaxation.
For these serious cases, I usually say come in twice a week and we try a short series of treatments, like 4 of them and then we reassess their condition. They leave with herbs and I explain how a little bottle with brown powder can help their dog or cat. "It's medicine they get twice a day," often herbs to clear the blood stasis, typically one of their main Chinese medicine diagnoses. I use only the highest quality herbs, and together with the other modalities, the herbs really do help.
And I have more to offer! At some point in the treatment room I teach the people how to give acupressure sessions for their animal at home and this really helps things along. As the animal returns for treatments, their trust in me and the space builds. If you know of any animals in need of this kind of healing, please consider contacting us. I'd be happy to answer any questions their people may have. To schedule an acupuncture treatment with your dog or cat, call Holistic Animal Clinic at West End Animal Center – 415.721.7494. Thanks for your interest!!!